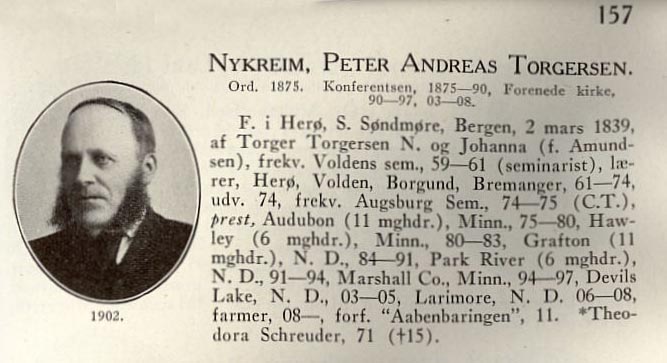 Peter Andreas Torgersen Nykreim, ordained 1875. Conference of the Norwegian-Danish Evangelical Lutheran Church 1875-1890; United Norwegian Lutheran Church, 1890-1897 and 1903-1908.
Born in Herø, South Søndmøre, Bergen on March 2, 1839. His parents were Torger Torgersen N. and Johanna (nee Amundsen).
He attended Voldens Seminary from 1859-1961.
He was a teacher in Herø, Volden, Borgun, and Bremanger, from 1861-1874.
After immigrating to the US in 1874, he attended Augsburg Serminary from 1874-1875.
He served a a pastor in Audubon MN (11 congregations), 1875-1880; Hawley MN (6 congregations), 1880-1883; Grafton ND (11 congregations), 1884-1891; Park River ND (6 congregations), 1891-1894; Marshall County MN 1894-1897; Devils Lake ND, 1903-1905; Larimore ND, 1906-1908.
He has been a farmer in 1908. He is the author of "Aabenbaringen," published in 1911.
He married Theodora Schreuder in 1871. She died in 1915.
From "Norsk Lutherske Prester i America" (Norwegian Lutheran Pastors in America)
by O M Norlie
©1915
---