Pretzel Craft Project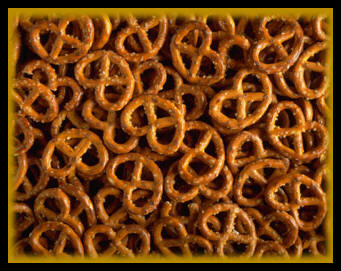 Pretzels were invented by Catholic monks. They were made with flour, water, and a little salt
and became a favorite food during the season of Lent.
The traditional shape represents the Triune God - Father, Son and Holy Spirit. Some
say the pretzel's shape represents how people prayed at that time - with their arms
crossed over their chests.
The name pretzel comes from the Italian word Pretiola or "little reward." They were given
to children who memorized their prayers. "Prayer Pretzels" make a perfect gift to remind
the people you include in your prayers of God's love for them, and yours, too!
WHAT YOU NEED

TO MAKE PRETZELS

2 16 oz. loaves of frozen bread dough
1 egg white, slightly beaten
1 teaspoon of water
Cooking spray
Coarse salt

plus

large cookie pans
9 X 13 cake pan
small bowl
egg brush

STEP-BY-STEP INSTRUCTIONS

1. Thaw bread dough.

2. Divide into 1 1/2" balls. This recipe should make 24 pretzels.

3. Preheat oven to 350 degrees and spray the cookie sheet with cooking spray.

4. Roll each ball into a long rope about 14" long.

5. Shape into a pretzel and place about 1" apart on the cookie sheet.

6. Let the pretzels stand for about 20 minutes. They will rise.

7. Bring water to a boil and pour enough into the cake pan so that it is about half full. Place the pan on the bottom rack of the oven.

8. Combine egg white and water. Brush each pretzel with the mixture and sprinkle with coarse salt.

9. Place the cookie sheet on the middle rack of the oven. Cook for about 20 minutes, or until golden brown.

WHAT YOU NEED
TO MAKE PRAYER PRETZELS



Chenille pipecleaners (any color)

8 1/2" x 11" cardstock

The Pretzel Story (3 on each page)

string or ribbon (optional)

plus

STEP-BY-STEP INSTRUCTIONS

1. Make pretzels out of a pipe cleaner like the ones in the picture above. (The yellow pretzel is only half done.)

2. Print "The Pretzel Story" on cardstock and cut out the 3 copies.

3. Write a special message or draw a picture on the back of the Pretzel Story card.

4. Give the "Prayer Pretzel" and a story card to the people you love to remind them that they are always in your prayers. Keep one for yourself to remind you that God is always with you when you pray!

Variation: You can punch a hole in the top corner of the story card and slide it onto the pipe cleaner BEFORE you make the pretzel, or tie it to the finished pretzel with a piece of string or ribbon.

[Back]