The Beatitudes Craft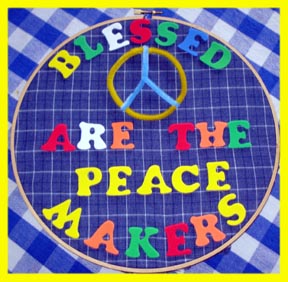 WHAT YOU NEED
Embroidery hoop
material remnants
lettering
other decorations (pictures, stickers, beads, etc.)
plus
STEP-BY-STEP INSTRUCTIONS










1. Each child should select the beatitude s/he wishes to use for their hoop hanging. They can choose to use the traditional translation found on the In the Bible page, or the modern translation found on the Beatitudes homepage.

2. Select the size of embroidery hoop and material and cut a square of the material to the size of the hoop. Fit the material into the hoop, tighten the hoop and cut off any excess. (If you will be using iron-on lettering, place the material under the embroidery hoop on an ironing board. After positioning the lettering, remove the hoop and follow directions on the lettering package to iron into place. Then fit the material into the hoop, tighten, and cut off excess.)

3. Using stick-on or other lettering, arrange the words of the first half of the beatitude on your embroidery hoop. Stick or glue into place.

4. You can add pictures or decorations to both the material and the embroidery hoop to help illustrate your beatitude.

5. To hang on a wall, a stick pin will work very well.

Individuals and classes may want to make a hoop hanging for each Beatitude and hang them as a set!
[Back]